WPTrainMe Saves You Time
WPTrainMe will not only save you many wasted hours of valuable time searching online for answers when you want things done or run into problems with your site, it will also shave years off your learning curve.
WPTrainMe is the product of years spent teaching businesses and non-technical website owners how to use WordPress to get results and then researching, testing, and documenting everything users need to know to manage and grow a web presence successfully using the WordPress platform.
We make all of this information instantly available to you from your WordPress dashboard via our plugin, so you don't even have to leave your site while you work on it.
WPTrainMe Saves You Money
Our detailed step-by-step tutorials teach you everything you need to be fully in control of your web presence without requiring technical knowledge or skills. This helps you save thousands of dollars on services like web development and web design, as well as internet marketing and digital skills training. You will learn how to get things done on your website that
Our tutorials and the WPTrainMe plugin will show you how to get things done on your website that are not technically difficult to do and that can be done quickly and easily either by yourself or by a staff member whenever you need something done.
Other Free WordPress Tutorials Vs WPTrainMe
Many sites offer free WordPress tips and tutorials online. The primary goal of most of these sites, however, is not to provide WordPress training, but to sell you services like web development, web design, web consulting, etc. In other words, the tips and tutorials are there mostly to attract visitors to the site in order to sell them services.
There is nothing wrong with educating users about WordPress and showing visitors that you have knowledge and expertise. Because training is not the main focus of these sites, however, very little planning has gone into building any kind of training "system."
We have written extensively about the challenges of training new WordPress users here:
The internet is often described as being like a 'huge library' where all of the books are scattered all over the place.
Similarly, even though many sites and courses may offer loads of great content and all of the information is "out there somewhere", most of it is disorganized and all over the place, and more often than not, presented out-of-context and delivered out-of-sequence.
Additionally, many tutorials are aimed at advanced users like web developers, which makes the information too technical, or, if aimed at beginners, too much is often "assumed", and so many important steps are left out, making the tutorial too confusing.
You can, therefore, end up spending an inordinate amount of time searching online before finding what you are looking for.
WPTrainMe is different!
WPTrainMe is a true "step-by-step" training system, built from years of experience teaching people how to use WordPress, and over a decade of expertise building business and training systems. WPTrainMe is also the result of careful planning to ensure that all of the training documentation is well organized and effectively managed and that all tutorials can be kept up-to-date as WordPress changes and evolves.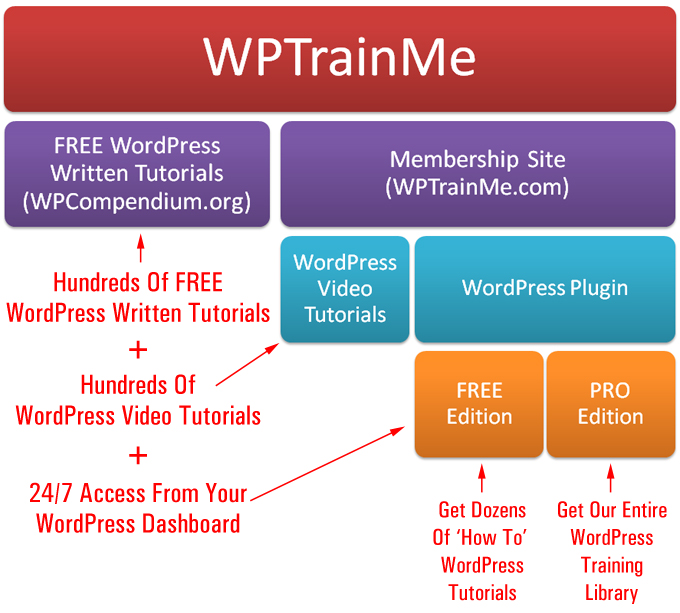 (WPTrainMe is a comprehensive WordPress step-by-step training system)
The WpTrainMe WordPress training system includes:
FREE WordPress Written Tutorials – You can access hundreds of detailed written WordPress tutorials online 24/7 by visiting our written WordPress tutorials site at WPCompendium.org and it will cost you absolutely nothing! No sign-up is even required!
WordPress Video Tutorials & Plugin – You can access all of our written tutorials plus hundreds of video tutorials from your WordPress dashboard with the WPTrainMe plugin. The plugin is easy to install and use (we provide complete step-by-step instructions) and gives you instant 24/7 access to everything you need to learn about using WordPress.The WPTrainMe plugin also comes in two editions, FREE and PRO.
WPTrainMe Is A Unique WordPress Training Solution
Our step-by-step WordPress tutorials show you not only how to use WordPress but also how to install, configure, set up and customize WordPress, how to expand your site's functionality in almost unlimited ways with dozens of powerful plugins, how to manage, optimize and keep your WordPress site secure, and many different strategies for growing and profiting online with a WordPress site … all at minimal cost and with no coding skills required.
In addition, all of the training content is interlinked and can be accessed from your own site's administration area with just a few clicks. WPTrainMe is full of practical tutorials and information that will make learning WordPress easy, fast and convenient, while saving you considerable time and money.
***
View WPTrainMe Plugin Features And Pricing