Learn WordPress With Hundreds Of Videos & Step-By-Step Tutorials ... Get The WPTrainMe PRO Plugin!
Get 'One-Click' Access To Hundreds Of Videos & Detailed Step-By-Step Tutorials Covering EVERYTHING You Need To Know To Grow Your Business Online With WordPress!
*** Over 500 WordPress Tutorials ***
Click the buy button above to get immediate access!
* Yearly subscription includes updates and regular addition of new tutorials. You can cancel your subscription at any time.
Our Tutorials Are Easy To Follow – No Technical Knowledge Or Coding Skills Are Required!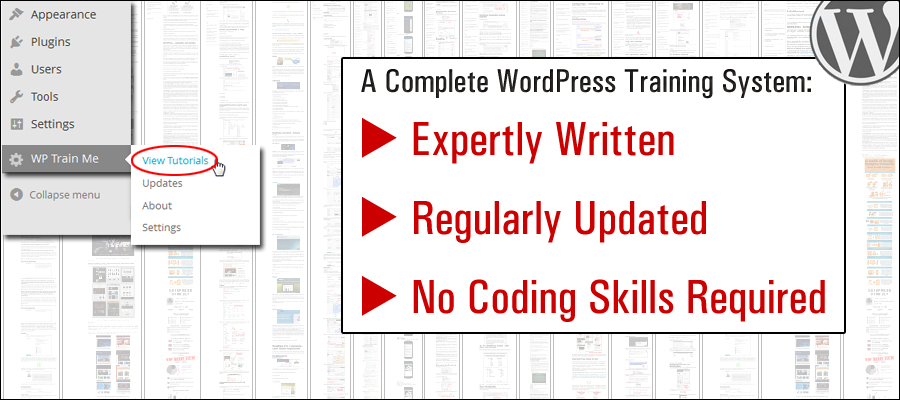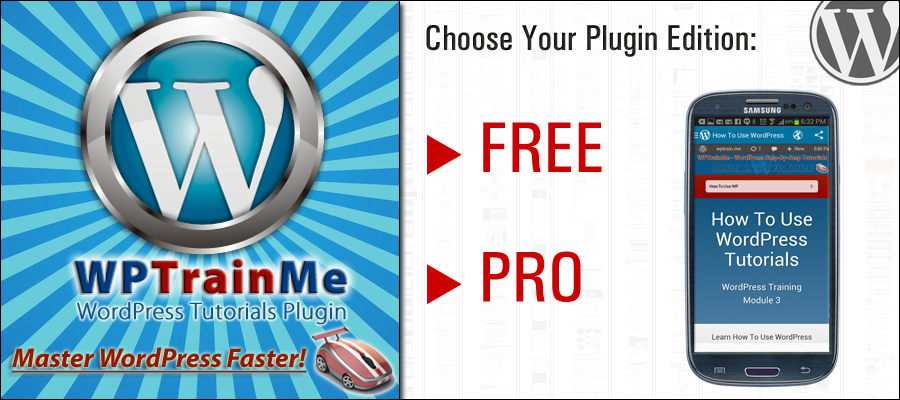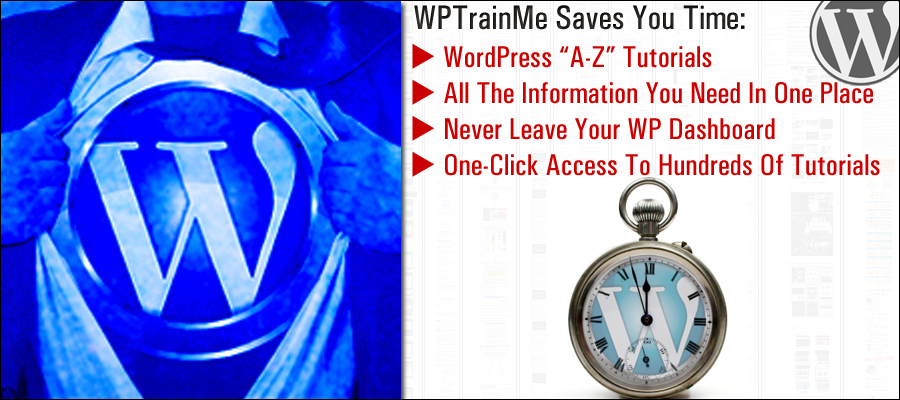 "Firstly I want to say, VERY, VERY IMPRESSIVE site! I truly wish you had it up 18 months ago. From what I have seen so far, this course would have saved me thousands and months of being scammed!"

- Daniel Warren, The Family Shopping Store
Dear WordPress User and Business Owner:
WordPress is the world's most popular web publishing platform and content management system.
One in every five websites in the world is powered by WordPress ... chances are, your website is also powered by WordPress!
Website owners who know how to use WordPress have COMPLETE CONTROL of their web presence and get the results they want. Why? Because once you know how to use WordPress, you will no longer depend on technical people like webmasters, web developers or web designers to get things done. Learning how to use WordPress gives you control and freedom online.
With WordPress, there's almost no limit to what you can achieve online ... even if all you have is basic computer skills and "zero" coding skills!
The problem is that it takes years for most WordPress users to develop the level of expertise where they no longer have to waste time scouring the net for information, keep spending money, or wait around for days to get things done on their website.
We can help you eliminate years of headaches and frustrations and save you thousands of $$$ in unnecessary web development, online marketing, and digital training costs.
If you want to learn how to master using WordPress with no technical expertise or coding skills required and at minimal cost, our WPTrainMe WordPress User Tutorials Plugin - PRO Edition is the ideal WordPress training solution you need.
Simply install the plugin (we provide complete step-by-step instructions in our WPTrainMe Plugin User Guide) and get instant 'one click' access to hundreds of detailed WordPress tutorials inside your own WordPress dashboard ...
"This is AMAZING! I had learnt about how to use WordPress previously, but this covers absolutely everything and more!! Incredible value! Thank you!"

- Monique, WarriorForum
WPTrainMe is the most comprehensive, well-organized, and easy-to-follow WordPress step-by-step training system available!
We have spent years developing, testing, and refining our WordPress step-by-step training system to deliver detailed and easy-to-follow tutorials that will show you how to get great results online at minimal cost and with no coding skills required.
'One Click' Access To Hundreds Of Step-By-Step WordPress Tutorials Organized Into Logical Training Modules
Our WordPress tutorials are divided into logical training modules that will take you step-by-step through the entire process of building, managing and growing your web presence with WordPress:
Introduction To WordPress
How To Install WordPress
How To Configure WordPress
How To Use WordPress
WordPress Plugins
How To Customize WordPress
WordPress Management
WordPress Optimization
WordPress Security
WordPress Strategies
Install the WPTrainMe plugin to get instant 'one-click' access to hundreds of WordPress tutorials inside your dashboard ...
Access context-related tutorials to expertly guide you through every function and feature of WordPress while you work on your site ...
WPTrainMe provides you with a practical 'step-by-step' understanding of how everything fits together in WordPress ...
Each tutorial contains detailed screenshots with loads of helpful instructions that make learning WordPress fast, simple and easy ...
Additionally, each tutorial contains links to related tutorials, so you can find everything you need quickly and easily ...
"This is an awesome training series. I have a pretty good understanding of WordPress already, but this is helping me to move somewhere from intermediate to advanced user!"

- Kim Lednum - WordPress User
PRO Edition Gives You Access To
All

Tutorials In

All

Training Modules!
"If you're new to WordPress, this can stand on its own as a training course and will stay with you as you progress from beginner to advanced and even guru status."

- Bruce (Columbus, Ohio)
Master WordPress Faster With WPTrainMe ...
I was absolutely amazed at the scope and breadth of these tutorials. I challenge anybody to find better value for money! The most in-depth training I have ever received on any subject! - Myke O'Neill, DailyGreenPost.com
WPTrainMe PRO Is The Ideal WordPress Training Solution For ...
All WordPress Users
Business Owners
Bloggers
Internet Marketers
Affiliate Marketers
WordPress Service Providers (We Offer Multiple User Licensing Options)
WordPress Developers (We Offer Multiple User Licensing Options)
"Learning WordPress has been a huge stumbling block for me. I've been looking for something that covers absolutely everything but doesn't cost an arm and a leg. Thank you so much … you have just provided me with what I have been looking for. An amazing offer with nothing but value. Truly appreciated!"

- Tanya,

Australia
---
Download WPTrainMe PRO At The 'No-Brainer' Price Shown Below!
Purchase WPTrainMe PRO Edition today at the special price below to "lock in" your subscription fee and get access to hundreds of WordPress video tutorials and new tutorials to be added on a regular basis, plus all of the additional content included inside your member's area ... checklists, templates, downloadable guides, and more!
WPTrainMe PRO Edition - $37 per year (single user license)
(Get immediate access to your purchase … even if it's 3:37 am!)
* Yearly subscription includes updates and regular addition of new tutorials. You can cancel your subscription at any time.
Buy Online With Confidence - Your Satisfaction Is 100% Guaranteed And Your Order Is 100% Secure!

Our "No-NonSense" 30-Day No Questions Asked 100% Money-Back Guarantee:
Purchase your WPTrainMe.com PRO membership today, download the plugin to access our WordPress tutorials inside your own WP Dashboard and start putting all of our great information to use in your own business.
If, for any reason in the next 30 days you are not 100% satisfied with the value provided to you as a member of WPTrainMe.com, we will FULLY REFUND your purchase fee - no questions asked!
Once again, just to make it 100% clear ... If you are not 100% satisfied with WPTrainMe.com, we will refund your membership fee in full!
Why No-Risk Really Means No-Risk
Your purchase is FULLY GUARANTEED FOR 30 DAYS. If you are not satisfied in any way with your purchase, simply contact the payment processor on your purchase receipt within 30 days and you will automatically be issued with a full refund ... no questions asked!
We only use trusted, reliable and secure merchants to process your payment and to ensure immediate access and delivery of your purchase. Our merchants handle all payments on our behalf using PayPal, Visa or Mastercard.
Your payment is 100% secure. We never see your credit card information. To find out how secure the ordering process really is and to learn more about our merchant services provider, please visit our FAQ Section.
As soon as your payment has been processed, you will be automatically taken to the membership registration page for instant and immediate access. If you experience any problems at all, simply contact us and we'll help you get things sorted out.
I look forward to being a part of your online success!
PS: How much time and money do you think you would save if you had instant access to ALL the information you needed to do EVERYTHING you wanted to do in WordPress without having to pay someone to do what you could easily do yourself? We will show you 'step by step' how to be fully in control of your web presence, and how to save THOUSANDS of $$$ on web development and online marketing costs.
As you can see, there is an incredible amount of value being offered here, and things are only going to get better! Purchase WPTrainMe today and start growing online with WordPress faster!
P.P.S. Remember, you have 30 Days to decide if our WordPress Training System, which includes detailed step-by-step tutorials with thousands of screenshots and easy-to-follow instructions, accompanying videos, templates, checklists, downloadable files, updates and a whole lot more have delivered enough "value-for-money" information to justify your investment. If you're not absolutely thrilled with WPTrainMe.com, I will personally refund you all of your money, no questions asked!
Get Instant Access To WPTrainMe Plugin PRO Edition! Click On The Button Below ...
* Yearly subscription includes updates and regular addition of new tutorials. You can cancel your subscription at any time.
---
This Site Is 100% WordPress! Learn Everything You Need To Know About Using WordPress With WPTrainMe!