WPTrainMe Plugin: Features & Pricing
WPTrainMe provides a complete, well-organized, up-to-date and easy-to-follow WordPress "A-Z" training system that includes hundreds of detailed WordPress step-by-step tutorials, organized into 10 training modules:

Introduction To WordPress

WordPress Installation

WordPress Configuration

How To Use WordPress

WordPress Plugin Tutorials

WordPress Customization

WordPress Management

WordPress Optimization

WordPress Security

WordPress Strategies
The sections below outline the WPTrainMe plugin's main features and pricing details.
"I am so grateful for the level of detail and the elegant flow of all the tutorials!"

- Andrea Adams
"I was absolutely amazed at the scope and breadth of these tutorials. I challenge anybody to find better value for money! The most in-depth training I have ever received on any subject!"

- Mike O'Neill, DailyGreenPost.com
WPTrainMe WordPress Training System - Main Features
A Complete WordPress 'A-Z' Training System
WPTrainMe is the result of years spent teaching and training businesses to use WordPress and building professional WordPress sites for clients, plus over a decade of expertize developing documented business training systems for commercial enterprises. The focus of WPTrainMe is to empower WordPress users to be in control of their own websites.
A True Step-By-Step WordPress Training System
The WPTrainMe system breaks WordPress down into 10 training modules, with each module containing dozens of detailed tutorials that take you step-by-step through a logical sequence. The WPTrainMe training system is the result of years of experience building WordPress sites, training hundreds of business owners to use WordPress, and documenting the entire step-by-step process along the way.
Screenshot Tutorials Make Learning WordPress Easy, Simple & Fast!
We use detailed screenshot tutorials to explain WordPress in a way that makes it simple and easy-to-follow. Screenshot tutorials require a lot of time and effort to create, but they can be more beneficial to users than other formats (e.g. screen video recordings or PDF guides), as the information is easier to update and allows you to find what you are looking for quickly by scrolling through the content instead of sitting through long videos to get to the point.
Find Topic-Related Information Quickly And Easily
As you work through the tutorials, you will see hyperlinked references in the training content to other WordPress-related topics, functions and features (think Wikipedia), plus a list of related tutorials at the end of each training section. All tutorials are fully interlinked and cross-referenced to help make finding the exact information you are looking for easier and faster.
WordPress Video Tutorials Included
In addition to providing comprehensive and detailed screenshot tutorials, we also include hundreds of accompanying video tutorials with the training content. For more information about the video tutorials, see our FAQ section.
View Tutorials On Your Mobile Device
WPTrainMe uses a premium-quality mobile responsive theme to ensure that all training content, including tutorial images and videos will resize and display correctly on mobile devices.
WPTrainMe Works Across All Electronic Device Platforms
All of WPTrainMe's tutorials are built with WordPress using a WordPress responsive theme. Since WordPress works on all device platforms, so will the tutorials. No matter what device you're using, you can get access to the training information you need when you need it.
WPTrainMe Plugin Is Easy To Install And Simple To Use
Everything you need to become a proficient, competent or expert WordPress user is included in an easy-to-install WordPress plugin. We also provide detailed step-by-step installation, configuration and usage instructions online in our WPTrainMe Plugin User Guide.
WPTrainMe Tutorials Are Ideal For Non-Technical Users
While many online WordPress tutorials are geared towards technical users like web developers and web designers, WPTrainMe's goal is to teach WordPress users how to be in control of their own web presence with no technical website expertize or coding skills required.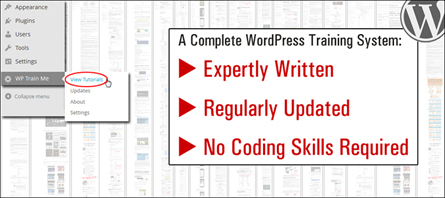 Different Plugin Editions To Suit Your Needs
We have four WPTrainMe plugin editions available to suit different users. Whether you are a WordPress user looking to learn how to use, manage and grow your website, or a WordPress service provider looking for a time-saving and cost-effective way to train your clients, we recommend choosing one of our plugin editions: FREE, BASIC, BUSINESS, or PRO.
WordPress Users Love WPTrainMe
Based on the feedback we receive from people who use our tutorials to learn WordPress and those who have attended our seminars and training workshops, we can confidently say that people love the quality of our training content and the level of detail we provide. Please visit our testimonials section to read what users think of WPTrainMe.
WPTrainMe Saves You Time
The WPTrainMe plugin saves you valuable time by giving you 'one-click' instant access to a complete WordPress 'A-Z' training system right inside your own WP Dashboard. Instead of spending hundreds of hours scouring the net for information whenever you "get stuck" and don't know what to do next, you can now instantly access hundreds of detailed WordPress tutorials from one place without leaving your own dashboard.
WPTrainMe Saves You Money
WPTrainMe can help you save thousands of dollars on web development and web marketing costs. If you want to learn how to be in control of your own website and grow a successful online presence on a budget, we'll show you how to save money and how to grow online using many FREE or very low cost solutions.
No Other WordPress Training Product Compares To WPTrainMe!
In addition to being a comprehensive training system that instantly delivers you hundreds of tutorials, videos, templates, checklists and downloadable files, WPTrainMe was also designed to keep all information organized, up-to-date and easy to find as WordPress continues to evolve.
"Got your WordPress training and it is just what I needed. Very clear and easy to understand."

- James U (N.C. USA)
WPTrainMe Plugin - Pricing
* Annual subscription includes plugin updates and regular addition of new tutorials. You can cancel your subscription at any time.